Click on my face if you want me to DJ your next event
Mix Mornings with your Host Jason every weekday from 6am-10am
---
Jason@thenewmix.com https://www.facebook.com/Mix107.3 @TheNewMix1073

---
I am originally from Auburn Hills, MI. I have been in radio for about 15yrs now. I got my start at the very bottom as an intern doing all the fun things like getting coffee for everyone, shining their shoes, giving piggy back rides down 10 flights of stairs cause the talent didn't feel like walking that day and some other great things. Ok Ok! It wasn't that bad but I did start as an intern at 93.1 WDRQ in Detroit and did just about everything I could get my hands on from promotions, overnight DJ, night show co-host, morning show side kick, broadcast engineer and much more. I then moved on to 102.5 WIOG in Saginaw, MI to start on a Night show then moved up to having my own show again on the Afternoon Drive. I have a Huge passion not only for radio but for Music. I love to be on top of all that Brand New music that is out there each and every day. I also DJ (yes spin music) for weddings, school dances ect.....The best part of radio is when I can get out of the studio and meet everyone that I broadcast to everyday.
Favorite T.V./Movies: There are so many! Mythbusters, White colar, Leverage, Gangland (only so I know what sign to throw up in my area so I don't get shot, lol), Greatest American Hero. Movies I absolutely love The Boondock Saints (only the first one cause the second sucked), Snatch, Avatar, Transformers and pretty much anything with Will Ferrell in it.
Sports/Activities: I love to play everything. Basketball (1998 Oakland County slam dunk Champ) is my favorite, Football, Pool (no not swimming) and Drinking.
Tell us one Crazy Story from your Radio Career: Well let me think of a family friendly one quick, lol. When I was an intern in Detroit the night show host there told me and another intern to take some fireworks across the border to canada, light them off so they could see them from the station and come back. We did this with no problem but when we got back he failed to mention that was a Huge crime of smuggling weapons (yes they are considered weapons) across a border. So needless to say if we got caught I don't think I would be in radio today.
Where do you see yourself in 10yrs? Well hopfully I will still be kicking Butt here at the New Mix 107.3.
Last but not least Favorite food to make Quick: Hot dogs but I would rather grill them or anything for that fact.
---
RIDDLE OF THE DAY
(Check back every morning to see a new riddle, Then listen to win)
I am a thing, when I look at him, he looks at us.
Who am I??

ANSWER: A Mirror
---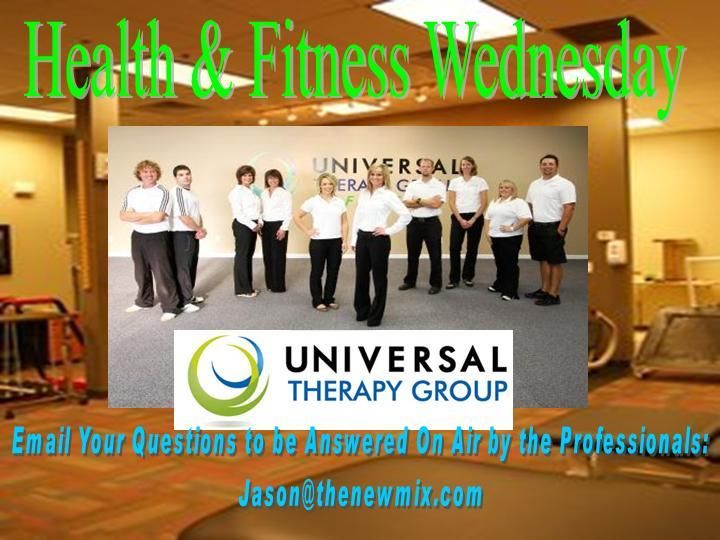 ____________________________________________________________________________________________
Here is Your Top 5 List for Today
5 Things You Actually Should Say To Your Friend With Benefits
1. "Tell me exactly what you want."
Miscommunication is probably the biggest reason why FWB relationships always fail. So, get rid of it! It's not weird or clingy to ask someone what they want, it's smart. Let's get rid of that misconception now. You don't have to be super demanding, just be like, "Hey, tell me exactly what you're looking for here and please be honest." Then, and this is important, LISTEN. If he/she says, "I just want something casual, not a relationship," don't assume they're just "saying" that. If that's not what you want, then leave now before the feelings get messy.
2. "I want…"
The other person said what they want, so now it's time for you to speak your mind too. I know that it's really hard to tell someone you like what you want with them or out of the relationship, but you have to. If you want something serious eventually, say that! Don't hide it to look "cool." Don't act like you can do casual if you don't want to. Please be honest with yourself and then go from there.
3. "Are you going to be seeing other people?"
This is important. You want to know beforehand if your partner is planning on being with other people so that you're not blindsided by it, and also so that you can protect yourself sexually. If you want things to be exclusive, say that… but know your partner might disagree. Just establish these rules/boundaries so that they're there.
4. "Do you see any kind of future here at all?"
Ask this question if you really like your friend with benefits, and you're starting to freak out about the situation. I know a lot of you think this is "clingy," but it's not. It's only clingy if you ask over and over again. Ask once, and take what they say seriously. It's better to know than to just sit around and wonder.
5. "I'm not okay with…"
Listen, just because you have a casual relationship with this person doesn't mean they can do whatever they want and treat you however they want. You're still allowed to defend yourself and to tell them what they're doing sucks. So if your partner says they want to have sex with other people, and you're not okay with that, say it! Saying it doesn't mean they'll change their mind, but at least they know, and at least you can get that off your chest. Similarly, if you're not okay with them getting mad at you for flirting with others, tell them!
Talking marriage from day one: That might be your aim eventually, but it's a good idea to not talk about wedding bells on the first date. Even if you are meeting him for an arranged marriage scenario, make sure you get to know him first before you start talking about kundlis.
Picking fights from day one: Of course there are legit things to get mad about, but if you've just started dating someone, then getting angry over every little thing sends out the wrong signals.
Constant virtual PDA: Changing your Facebook status to 'in a relationship' after the first date might make you seem too needy. And the constant messaging and hourly calls just add to it.
Making him talk to your family: Adding him to your family Whatsapp group post after the first date isn't a great idea. Also don't expect him to jump at your suggestion of meeting your family for the next date. We bet the moment you suggest it, he is already thinking of an excuse to run away.
Disliking his friends: You might have met then briefly before you started dating, but dissing them on the first date isn't a great idea. It gives out the idea that in future you won't let him hang out with people he likes. Needy much?
Evaporate Hot Water
This is about as simple as an experiment can get. You just have to make sure it is very, very cold and you use very, very hot water. Simply boil some water, place it in a mug, head outside when the temperature is at -10 or lower, throw the water up into the air and watch what happens!
Anytime the temperature drops below zero, you'll want to make sure you have some bubble solution ready. Why? Because you can freeze the bubbles! Warm up the solution in the microwave before heading outside and blowing some bubbles. Catch the bubbles on the wand and watch them freeze, then you can throw them, roll them or just crack them.
This one is simple enough, you just want to plan this experiment so you explode you can or bottle of soda in the middle of the night, waking up all of your neighbors. The best thing to do is leave the soda outside for an hour. Once it's almost completely frozen, throw the soda, or drop it off a ledge to make your pop go pop!
Bananas are about to get a whole lot cooler. Place a ripe banana in the freezing cold outdoors and let it sit for about an hour. Then find something you wish to hammer, perhaps a nail into a piece of wood, and hammer away with your banana. Note that it will still hurt if you accidentally hit your finger instead of the nail.
Shrink and Re-Grow a Balloon
Find a balloon, and yes for many that will be the most difficult step, blow up the balloon and tie it up outside. The balloon will deflate, the colder it is the faster this will happen. Once you are satisfie
Read More: Five Things to Do When Bored in Cold Weather | http://kowb1290.com/five-things-to-do-when-bored-in-cold-weather/?trackback=tsmclip