Click on my face if you want me to DJ your next event
Mix Mornings with your Host Jason every weekday from 6am-10am
---
Jason@thenewmix.com https://www.facebook.com/Mix107.3 @TheNewMix1073

---
I am originally from Auburn Hills, MI. I have been in radio for about 15yrs now. I got my start at the very bottom as an intern doing all the fun things like getting coffee for everyone, shining their shoes, giving piggy back rides down 10 flights of stairs cause the talent didn't feel like walking that day and some other great things. Ok Ok! It wasn't that bad but I did start as an intern at 93.1 WDRQ in Detroit and did just about everything I could get my hands on from promotions, overnight DJ, night show co-host, morning show side kick, broadcast engineer and much more. I then moved on to 102.5 WIOG in Saginaw, MI to start on a Night show then moved up to having my own show again on the Afternoon Drive. I have a Huge passion not only for radio but for Music. I love to be on top of all that Brand New music that is out there each and every day. I also DJ (yes spin music) for weddings, school dances ect.....The best part of radio is when I can get out of the studio and meet everyone that I broadcast to everyday.
Favorite T.V./Movies: There are so many! Mythbusters, White colar, Leverage, Gangland (only so I know what sign to throw up in my area so I don't get shot, lol), Greatest American Hero. Movies I absolutely love The Boondock Saints (only the first one cause the second sucked), Snatch, Avatar, Transformers and pretty much anything with Will Ferrell in it.
Sports/Activities: I love to play everything. Basketball (1998 Oakland County slam dunk Champ) is my favorite, Football, Pool (no not swimming) and Drinking.
Tell us one Crazy Story from your Radio Career: Well let me think of a family friendly one quick, lol. When I was an intern in Detroit the night show host there told me and another intern to take some fireworks across the border to canada, light them off so they could see them from the station and come back. We did this with no problem but when we got back he failed to mention that was a Huge crime of smuggling weapons (yes they are considered weapons) across a border. So needless to say if we got caught I don't think I would be in radio today.
Where do you see yourself in 10yrs? Well hopfully I will still be kicking Butt here at the New Mix 107.3.
Last but not least Favorite food to make Quick: Hot dogs but I would rather grill them or anything for that fact.
---
RIDDLE OF THE DAY
(Check back every morning to see a new riddle, Then listen to win)
If last year "shoe" was written with an "s" How do we write today??

ANSWER: T-O-D-A-Y
---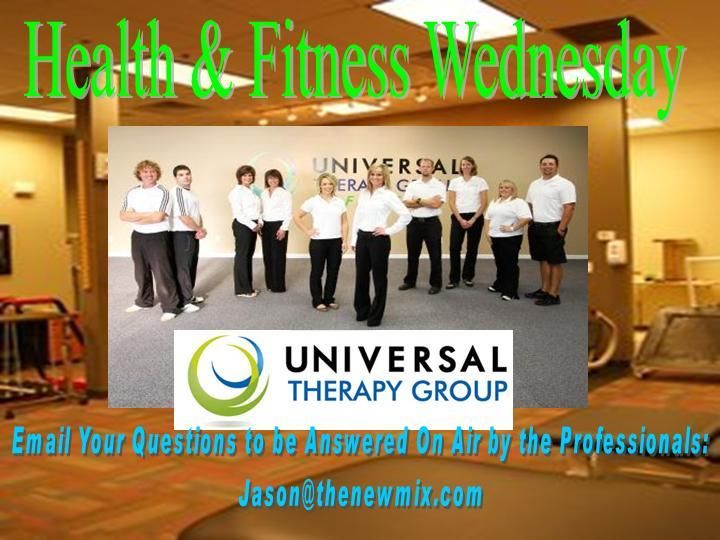 ____________________________________________________________________________________________
Here is Your Top 5 List for Today
5 Types Of People You'll Run Into On Black Friday
1. The Black Friday professionals aka The Moms
If the long list of Black Friday run-ins, here's a force to be reckoned with. These ladies hold high-waisted black belts in budget shopping. Part time coupon clippers, their frugality is unmatched. They've done their homework, and know the ins and outs of securing the ultimate holiday gift haul for half the price. They may seem sweet and nurturing any other day of the year, but come Black Friday, a whole different side of them comes out. You don't want to be standing in their warpath.
2. The ones who camped out the night before
These zealous shoppers sacrificed a good night's sleep for the first place in line. They'll be shuffling along with stiff backs and the faint scent of unwashed human. They know they got to the store before everyone else, so they will feel entitled to the best goods. Even if you beat them to the most sought-after merch, they'll be a tough crowd to mess with since sleeping outdoors for the night revved up their survival instincts.
3. The ones who got no sleep the night before
This descriptor is applicable to many a Black Friday shopper. You'll know them when you see them. They'll be the ones with dark circles under their eyes and a curling upper lip. It's against nature to spend the evening loading up on tryptophan and starch, forgoing sleep, then putting yourself in an environment of fluorescent lights, linoleum floors, and dead center in a stampede of shoppers. But there's no time for a pity party here. You had a full REM cycle during your three hour nap, and are ready for whatever the day brings. The best you can do is avoid them. They're slower moving, and will only cut you down with grouchy affronts.
4. The overly caffeinated
The other set of sleep-deprived shoppers went with the route of self-medicating extreme. After a few too many double shots, they'll be twitching, wide-eyed, and ready to attack those Black Friday sales with a hyper veracity that will leave less aggressive bystanders in their wake.
5. The arm swingers
Beware of the shoppers who use their bodies to barricade pathways, push away human obstructions, and violently secure their merch. This dangerous set unabashedly resorts to extreme force to get what they want, and their unchecked aggression is what typically leads to a mob and many bruises.
Talking marriage from day one: That might be your aim eventually, but it's a good idea to not talk about wedding bells on the first date. Even if you are meeting him for an arranged marriage scenario, make sure you get to know him first before you start talking about kundlis.
Picking fights from day one: Of course there are legit things to get mad about, but if you've just started dating someone, then getting angry over every little thing sends out the wrong signals.
Constant virtual PDA: Changing your Facebook status to 'in a relationship' after the first date might make you seem too needy. And the constant messaging and hourly calls just add to it.
Making him talk to your family: Adding him to your family Whatsapp group post after the first date isn't a great idea. Also don't expect him to jump at your suggestion of meeting your family for the next date. We bet the moment you suggest it, he is already thinking of an excuse to run away.
Disliking his friends: You might have met then briefly before you started dating, but dissing them on the first date isn't a great idea. It gives out the idea that in future you won't let him hang out with people he likes. Needy much?
Evaporate Hot Water
This is about as simple as an experiment can get. You just have to make sure it is very, very cold and you use very, very hot water. Simply boil some water, place it in a mug, head outside when the temperature is at -10 or lower, throw the water up into the air and watch what happens!
Anytime the temperature drops below zero, you'll want to make sure you have some bubble solution ready. Why? Because you can freeze the bubbles! Warm up the solution in the microwave before heading outside and blowing some bubbles. Catch the bubbles on the wand and watch them freeze, then you can throw them, roll them or just crack them.
This one is simple enough, you just want to plan this experiment so you explode you can or bottle of soda in the middle of the night, waking up all of your neighbors. The best thing to do is leave the soda outside for an hour. Once it's almost completely frozen, throw the soda, or drop it off a ledge to make your pop go pop!
Bananas are about to get a whole lot cooler. Place a ripe banana in the freezing cold outdoors and let it sit for about an hour. Then find something you wish to hammer, perhaps a nail into a piece of wood, and hammer away with your banana. Note that it will still hurt if you accidentally hit your finger instead of the nail.
Shrink and Re-Grow a Balloon
Find a balloon, and yes for many that will be the most difficult step, blow up the balloon and tie it up outside. The balloon will deflate, the colder it is the faster this will happen. Once you are satisfie
Read More: Five Things to Do When Bored in Cold Weather | http://kowb1290.com/five-things-to-do-when-bored-in-cold-weather/?trackback=tsmclip